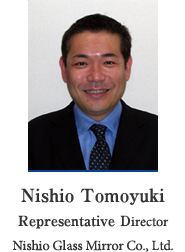 Nishio Glass Mirror Co., Ltd. started its journey in 1932, as a mirror manufacturing plant. Later, as Japan's economy boomed, Nishio expanded into the processing and handling of glass and mirrors for shops and other commercial facilities.
For over 80 years we've prided ourselves on producing the very best in glass and mirrors. Leveraging the techniques and knowledge it gained through that experience, Nishio attracts kudos from its many customers for its products of outstanding precision.
In my many years of worksite experience, I've experienced many times the final moment when our glass and mirrors are installed and thinking, "this store really turned out beautifully." Well-made glass breathes life into a space. At that moment, the image the owner or designer had in mind becomes reality right before your eyes. Producing glass that breathes life into a work or living space is about much more than finishing glass. It's about helping the customer to express a vision in glass. I love my job.
That's why the hand-finished part of our manufacturing process is so important. It's essential to ensure that every product is manufactured with the customer's viewpoint in mind.
We hand-finish our mirrors and glass to ensure uncompromising quality in the subtlest details. No machine can emulate the interplay of seasoned craftsmanship and veteran knowledge.
The passion to search constantly for solutions that best meet customer needs is deeply ingrained in our character as a company. At Nishio, nothing makes us happier than to deliver products that inspire delight in our customers. When a customer confronts us with daunting requirements, we never refuse but rise to the challenge, searching tirelessly for a way to make it happen. This can-do spirit is the driving force behind our assured technical capability and solid track record. Nishio has embraced challenges in this way since its foundation, resulting in the deep support we receive from our customers to this day.
The pursuit of glass and mirror solutions that showcase the appeal of each space is a challenge that never ends. Nishio will continue to leverage machine operation and hand-finishing to create beautiful glass and mirrors that respond to customer needs. The pleasure our customers feel in receiving glass and mirror products of the highest quality is our source of deepest fulfillment and our greatest joy.
Profile
Entered Sumitomo Corporation upon university graduation. Assigned to sales accounting, where he learned the basics of managerial mathematics. Joined the family business at 26. Elected at the age of 33 to his current post of CEO.

Company name
Nishio Glass Mirror Co., Ltd.
CEO
Nishio Tomoyuki, Representative Director
Establishment
July 1, 1932
Address
5-9-12 Omorikita, Ota-ku, Tokyo 143-0016
Capital
10 million yen
Employee
23 people
TEL
+81-3-3761-5494
FAX
+81-3-3763-8819
Email
Business registration
License no. 100308 (general-11) from the Governor of Metropolitan Tokyo
Principal business partners
Nomura Co., Ltd.
Nippon Sheet Glass Co., Ltd.
ZYCC Corporation
Hakusuisha, Inc.
Isetan Mitsukoshi Property Design Ltd.
Others
Details of Operations
The Company is principally involved in the processing, wholesaling and interior fitting of general sheet glass and mirrors.
Interior operations include installation and production of finished glass for customers such as department-store tenants, brand boutiques, hotels, hospitals and restaurants. The Company is currently working toward the future launch of its own brand focused on mirrors and glass.

●Nishio Glass Mirror Co., Ltd.
5-9-12 Omorikita, Ota-ku, Tokyo 143-0016
Phone: +81-3-3761-5494
▼

By car

Take Kannana-dori (Loop 7) to the Sawada interesection and turn left for Kamiuma.
Take the No. 1 Haneda Route of the Shuto Expressway to Suzugamori Interchange or Heiwajima Interchange, then drive 5–10 minutes.
▼

By train

Take the JR Keihin-Tohoku Line to Omori Station, exit the East Exit (Higashiguchi) and walk 12 minutes.
Take the Keihin Kyuko Line to Heiwajima Station and walk 8 minutes.