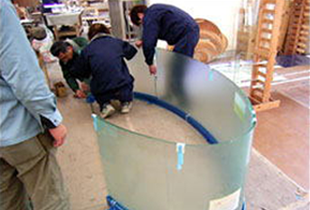 Glass and mirrors change the look and feel of a space just by being there, showcasing it in compelling ways.
But glass and mirrors are as dangerous and fragile as they are beautiful.
The patiently cultivated expertise of Nishio brings out the natural beauty of these delicate glass objects and mirrors to stunning effect.
Knowledge and technique honed over 80 years is Nishio's irreplaceable asset.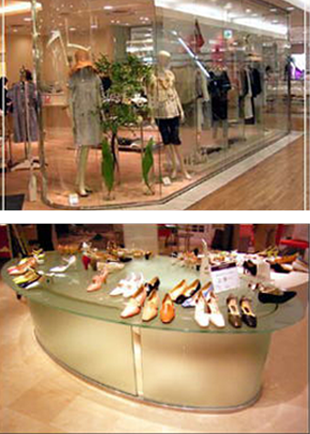 What comes to mind when you think of glass? Whether in the glass windows of houses and office buildings, store showcases or other fixtures, glass is used in familiar applications all around us. Glass prevents theft, dampens noise, regulates temperature…the roles glass plays in our lives are virtually endless. It can be put to effective use just as it is, or processed to find an even broader range of uses.
Consider glass partitions, for example. Glass can be combined with materials such as fabric, carbon fiber, blind-type sheets and mirrors, accentuating the appeal of a space.
Hanging glass is used at the Ginza flagship store of Kanematsu. Combining glass with cloth backing, or placing glass behind hundreds of carbon fibers, transforms the aspect of a room, lending a stylish elegance.
Glass plays a pivotal role in highlighting the sense of luxury in this exclusive women's-footwear emporium. Through the crafting of processed glass, Nishio creates a charming face for each setting.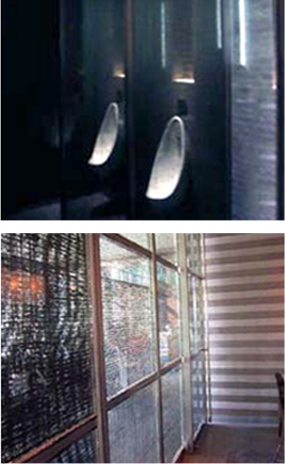 But Nishio does much more than process glass and mirrors. We create glass and mirror solutions tailored to the objectives, applications, environments and conditions for which they are installed.
For example, for the glass used in the washrooms and restaurant VIP rooms at the Mandarin Oriental Hotel Tokyo, we needed to preserve a sense of luxury while vouchsafing privacy. The glass used in the washrooms was embedded with fabric, while the glass we crafted for the restaurant's VIP rooms was combined with a mesh backing.
Because the glass in the washrooms was to serve as partitions, the glass had to be darkened overall while matching the stylish interior, so that users would not be disturbed by the presence of others.
For the restaurant's VIP rooms, discretion was key: The scene inside each VIP room must not be visible from the outside. To serve this need, the glass was combined with a mesh backing, creating a one-way mirror effect. By this means Nishio safeguarded the privacy of the VIP rooms while letting in natural light through the windows, so that patrons could see clearly outside.
When we produced the glass used in this ladies-only salon, we settled on creating a hanging door, so that customers could receive counseling without worrying about other customers overhearing. Both sides of the glass were emblazoned with stripes, permitting soft, indirect lighting for a relaxed, soothing mood.
As the foregoing examples illustrate, glass and mirrors can be processed to fulfill roles and functions appropriate to each milieu. Marshaling its wealth of knowledge and technical capability, Nishio can produce glass and mirror solutions ideal for the needs of each venue.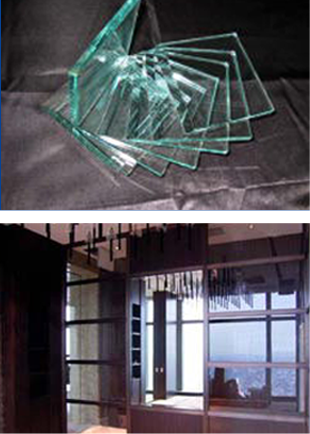 Many people believe that large sheets of glass are dangerous, as they are prone to breakage and cracking. To ensure that customers can enjoy our products in complete comfort, we at Nishio go to great lengths to fabricate glass and mirrors with the accent on safety and peace of mind.
For laminated glass, a layer of cloth is sandwiched between two layers of glass, to prevent the glass from shattering if it is broken. Where the glass is cut, the edges are extremely sharp, so to prevent shattering, a clear, shatter-resistant film is stretched over the edge and a decorative film is applied over the back of the glass. For movable glass sections such as swinging and sliding doors, the glass is itself reinforced before it is covered with shatter-resistant film, enhancing the strength of the final product.
Nishio is keenly aware of the potential dangers of glass and takes every precaution to prevent glass from becoming damaged and shattering. The most important requirement for Nishio glass and mirror products is that customers can enjoy their beauty in comfort, with confidence and peace of mind.
Nishio is continuing to hone its engineering capabilities, to produce glass and mirrors that captivate the people who use them.